Gemma Arterton si sta preparando alla battaglia come la Pulzella d'Orléans (aka Giovanna D'Arco).
L'attrice interpreterà la guerriera vergine in "Santa Giovanna" (Saint Joan) di Bernard Shaw, che sarà messo in scena al Donmar Warehouse a Covent Garden di Londra.
La direttrice artistica del Donmar Josie Rourke dirigerà lo spettacolo in cartellone dal 9 Dicembre fino al 18 Febbraio.

Shaw parla la storia di una popolana che ha una serie di visioni da Dio, che le dicono di guidare un'armata francese per incontrare le forze inglesi a Orléans, fino alla sua tragica fine.
Arterton, che ha recentemente interpretato Nell Gwynn per lo Shakespeare's Globe, ha detto che si è sentita onorata di interpretare un ruolo che le è stato molto familiare sin dai suoi giorni di studio alla Royal Academy of Dramatic Art.

Shaw ha condiviso i suoi diritti d'autore con la RADA, quindi ci sono sempre progetti che includono i suoi lavori. 'Santa Giovanna ha molta anima ed è poetico', ha riferito Gemma.
Però ha ammesso: 'Non è qualcosa che mi sarei immaginata fare, a essere sincera. Non penso che io sia la scelta più ovvia'.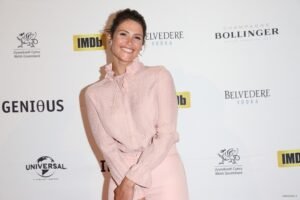 Si è incontrata con la Rourke e le ha chiesto come mai su tutta la Terra abbia scelto proprio lei nei panni della Pulzella d'Orléans. 'Non sono per niente lei; immagino perché sia religiosa e pura, e non è il genere di cosa che faccio di solito. I miei personaggi hanno di solito un pizzico in più di sfacciataggine. Anche quando interpretavo la Duchessa di Amalfi , lei era questa specie di personaggio puro – ma era anche un pò civettuola – e Giovanna non è così.'

Rourke ha detto che Giovanna è posseduta da una specie di radiosità. 'Quando Giovanna entra in ogni stanza, lei fa in modo che la gente la ascolti. Lei ha detto che sentì che avrei potuto interpretarla', ha riferito Gemma.

Una volta che ha riflettuto di più sull'eroina di Francia, l'attrice ha realizzato che, infatti, è attratta nell'interpretare donne con una testa forte.
'Sto disegnando delle donne che si trasformano durante il testo teatrale'
Lei ha citato l'operaia di fabbrica che ha combattuto per le lavoratrici inglesi nell'hit inglese Made in Dagenham; e la responsabile esecutiva del marketing che ha aiutato con lo sforzo bellico nel film imminente We Happy Few.

E poi le piace sorprendere le persone – esempio il Bond movie Quantum of Solace e uno spettacolo teatrale scritto da Shakespeare. In più, la preparazione al combattimento che ha avuto alla RADA l'ha aiutata con queste scene di battaglia.

Arterton parla fluentemente il francese, e ho chiesto se lei potesse parlare uno o due passaggi del testo in francese quando sarà in scena alla Donmar.
Le è piaciuta l'idea.
'Sarebbe carino fare una grande invettiva di istruzione in francese', ha riflettuto, scrivendo una nota per dirlo dopo alla regista.


Traduzione in italiano a cura di Gemma Arterton Italia dell'articolo del DailyMail
scritto da Baz Bamigboye (leggete l'originale qui)